How to use your iPhone as a personal Hotspot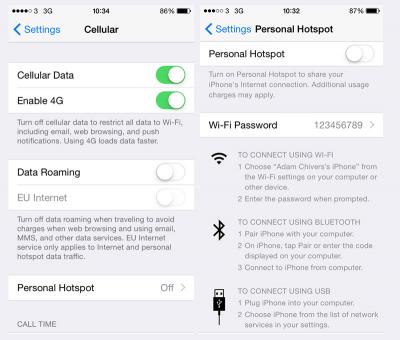 Personal Hotspot lets you connect your computers and devices to the Internet using the cellular data connection on your device.
To use this feature, enable Personal Hotspot on your cellular data plan. Contact your carrier for information and pricing.
Sharing your cellular data connection
Use the following steps to set up Personal Hotspot
Tap Settings > Cellular:
Tap Personal Hotspot and turn it on:
After configuring Personal Hotspot, you can directly access the settings from Settings > Personal Hotspot.
Note: If you do not see the option for Personal Hotspot, confirm with your carrier that this feature is supported and your wireless plan is configured for Personal Hotspot
Disconnecting devices
You can disconnect users by turning off Personal Hotspot, unplugging your device, or turning off Bluetooth.
Source Apple